A decade ago, we embarked on a thrilling adventure as the owners of Maple Grove Campground. Today, as we celebrate this momentous occasion, we are overwhelmed with gratitude for each and every one of you who have joined us on this journey. You are more than just customers; you are family. From the bottom of our hearts, we want to express our sincerest appreciation for your continued support, laughter, and unforgettable moments shared at Maple Grove Campground.
A Connected Experience
Right from the start, we understood the importance of staying connected in a digital world. That's why, shortly after taking over the campground, we made it a priority to add WiFi. We wanted to ensure that amidst the serenity of nature, you could still stay connected with loved ones and share your incredible experiences with the world.

Embracing Technology and Engagement
In 2014, we partnered with Insights Marketing Solutions, an expert in web development and social media management. This collaboration transformed our website and social media presence, allowing us to engage with you; our extended family, in a more vibrant and interactive way. We shared updates, events, and stunning photos that captured the essence of Maple Grove Campground, keeping you connected and informed.
Expanding Opportunities
To offer a wider range of camping experiences, in 2015, we introduced RV rentals. This allowed even more individuals and families to partake in the joys of camping, even if they didn't have their own recreational vehicles. It has been a pleasure witnessing the smiles and the new adventures made possible by this addition.
Local Delights and Partnerships
In 2016, we formed a partnership with the renowned Flanders Brothers of Vermont. This collaboration brought their exquisite Maple products and fascinating tours to Maple Grove Campground. It was a chance to showcase local flavors and offer you unique experiences, immersing you further in the natural beauty of our surroundings.
Catering to Your Convenience
Recognizing the importance of convenience, we installed a propane fill station in 2016. This addition allowed you to enjoy your camping experience without worrying about fuel for cooking or heating. We wanted to make sure that every moment spent at Maple Grove Campground was effortless and enjoyable for you and your loved ones.
Expanding Accommodations
In 2017, we added two cozy lean-tos to our tent area. These rustic yet comfortable shelters provided an additional option for those seeking a unique camping experience. We wanted to ensure that everyone, regardless of their camping preferences, felt welcome and at home within our campground.
A Sustainable Future
In the same year, we took a significant step towards sustainability by transitioning to solar energy. Our commitment to the environment and the preservation of our natural resources led us to embrace renewable energy sources. By going solar, we aimed to reduce our carbon footprint and create a campground that respects and protects the beauty that surrounds us.
A Fresh Look
In 2019, we proudly unveiled new signs that reflect the unique charm and warmth of Maple Grove Campground. These signs not only serve as way finders but also capture the essence of our campground, welcoming new guests and embracing the return of familiar faces.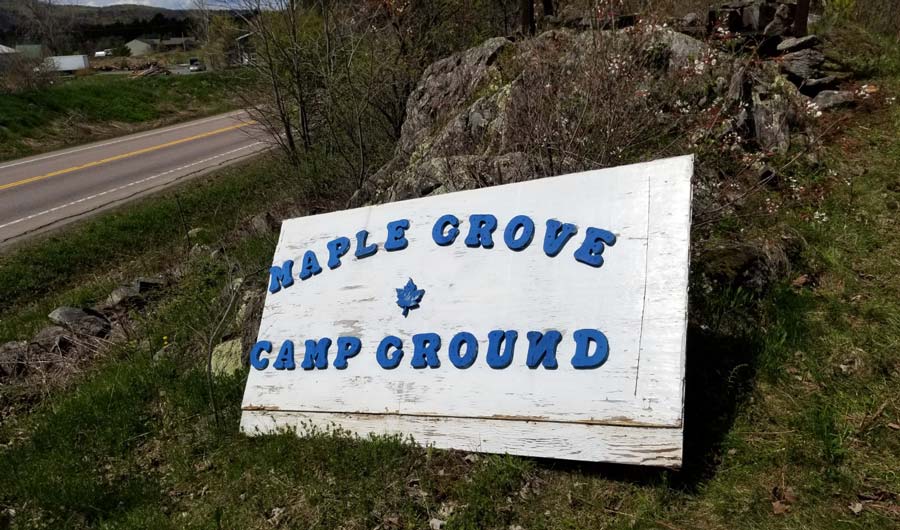 Continual Improvements
From 2020 onwards, we have been dedicated to upgrading our park infrastructure, ensuring that every aspect of your stay is comfortable and memorable. We have worked tirelessly to enhance the facilities, amenities, and services, striving to create an unforgettable camping experience for you and your loved ones.
A Seamless Experience
As we step into the future, we are thrilled to announce the launch of our online booking system in 2023. This advanced system provides you with the convenience of browsing availability, selecting your preferred dates, and securing your campsite or accommodation online. We understand that planning your getaway should be effortless, and our new booking system aims to streamline the process, making it even easier for you to join us at Maple Grove Campground.
So as we embark on another decade, we look forward to creating more unforgettable memories together, surrounded by nature's beauty, warmth, and the spirit of togetherness.
With love and gratitude,
Michael McGuiness
Maple Grove Campground