Let's talk about s'mores. S'mores go hand-in-hand with camping and we know a thing or two about making them great. We know some people like to toast their marshmallows just a bit, some like to turn them charcoal black. Some prefer wooden sticks and others go for the metal. All that aside, we want to give you some of our favorite s'mores recipes and we'll leave the toasting up to you.
Minty Fresh S'mores
This is my personal favorite so I'm putting it right at the top of the list. Get your graham cracker ready, marshmallow all toasty, but instead of adding chocolate to the mix; add a peppermint patty. Mint lovers beware, this is one addictive twist. If you're not into mint chocolate, this one probably isn't for you. Let's keep it moving.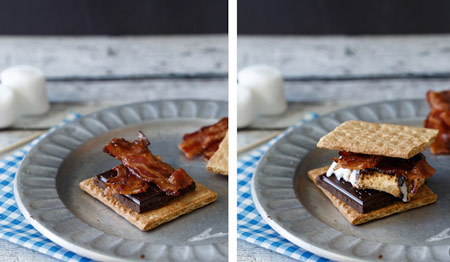 Bacon Lover S'mores
You saw that didn't you? Oh yeah, we're adding bacon to the batch. For this one, you'll want all three classic ingredients: graham cracker, chocolate, marshmallow. The crazy part comes when you add a piece of bacon in the middle!
Peanut Butter Bliss S'mores
With another classic combination, this one features the chocolate and peanut butter combo we know and love. Just like with the Minty Fresh S'more, get your marshmallow all toasty and good but instead of chocolate, put a peanut butter cup on the cracker. Once that chocolate starts to melt and the marshmallow gets all gooey, you'll be in for a treat!
Samoa S'mores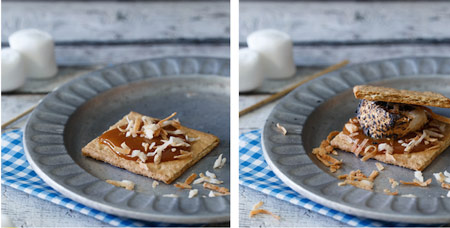 Thanks to the Girl Scouts, we are all too familiar with the Samoa, also known as the caramel delight. For this tasty treat slather some caramel sauce on the cracker, sprinkle toasted coconut, and add the marshmallow. You can experiment with adding chocolate and decide which way tastes best.
Rice Crispy S'mores
Think you know where this one is headed? Yup, we're ditching the graham cracker and replacing it with rice crispy treats. They can be homemade or from a package, depends on how much time you've got on your hand. This one is likely to be a bit taller than the traditional s'more, so get ready for a big bite!
Did We Miss Your Favorite S'more Recipe?
There are so many ways you can adjust this classic, or you can just stick to what you know. Throwing in different candy bars, adding some toppings, replacing the graham cracker with cookies, it's all fair game. Just remember, you always need that perfectly toasted marshmallow to hold it all together!