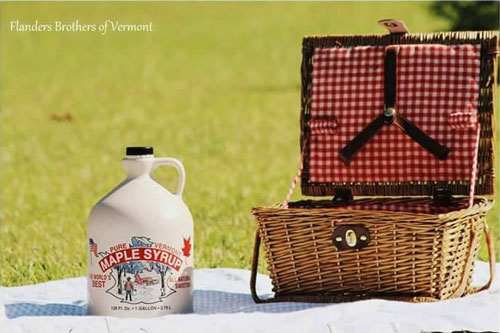 When you're in Vermont, you've got maple in your name, and you love pancakes there's just one way to bring it all together! We'll be having a Pancake Breakfast on Sunday, August 4th at 11am. Pancakes have a way of making people smile, and that's what we're all about! We're also excited to welcome the Flanders Brothers of Vermont with their phenomenal local Maple Syrup. The rest of the world might think it's a cherry on top that does the trick, but we know it's all about that Maple Syrup.
Season Update
What's been happing around the campground this summer? The biggest news comes when you first arrive on the property. You'll notice a few brand new signs to direct visitors to the entrance and welcome you once you arrive. Designing and creating this sign was a huge investment, but it brings us a lot of pride to have such a stunning sign to welcome you all. We put a lot of love and care into making sure the campsites and grounds are in tip-top shape, so we thought it was time our sign represented that.
We've been enjoying phenomenal weather! Winter was a long one, and that just makes these warm days even sweeter. From the Maple Festival to opening weekend to our Welcome Back Picnic, we've been able to enjoy tons of sunny skies and great memories already. Every day is a new opportunity to welcome campers and make the most of summer in Vermont.
Labor Day Weekend
Labor Day is September 2 this year and it's a popular one. We always want to welcome as many campers as possible every single weekend and this is no exception. If you're hoping to kick back, relax with family, and enjoy s'mores around the campfire please book in advance to avoid any disappointment. While we as business owners love having a full campground, it's always hard to have to tell folks that the dates they want are not available. Particularly when it comes to a long weekend, get those reservation requests in and get them in early!
Missing You
It's been a great season so far and the only thing missing is you! Pack up your tent, throw a few hotdogs in the cooler, and see you soon!