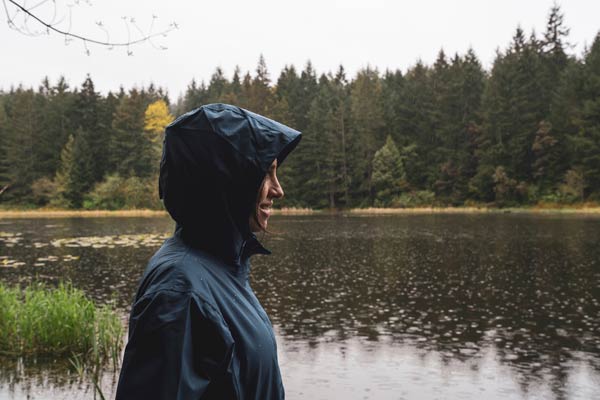 I for one, adore the sound of rain pattering against a roof while I sleep. It's the perfect white noise in a house, camper, car, or cabin. Now, if I'm to be bold, I'd also add tent to the list, but I know rain while you're in a tent is not always a welcome sound to everyone. We've all been there, soaked and swimming come morning because we leaned against the wall of the tent, left our backpack outside, or maybe even did everything right, but the rain still got to us. Let's chat about some things to do and some things to avoid when it comes to rain proofing your tent.
What does "waterproof" really mean
When you buy a tent, especially a new tent, it's already going to be waterproof. Or at least, it will be labeled waterproof on the box and while yes, waterproof tents do help you stay dry, there's a bit more to rain proofing your tent. The biggest mistake you can make is bringing a waterproof tent straight to a campsite, setting it up all by itself, and expecting it to do all the work of staying dry. In a perfect world, a waterproof tent would be enough to keep you dry, but unfortunately, that's not always the case.
Avoid Direct Sunlight
We know your tent is going to catch some rays while you camp, but direct sunlight can contribute to deteriorating the fabric and lead to a wetter tenting experience. Especially when the tent it out of use, keep it stored out of the sun. Then, when you do pick your spot to set it up to camp, shoot for some shade. If you're tenting for an extended period of time, you might consider relocating your tent as the sun shifts during the season.
As tears or more worn areas appear over time, be prepared to patch them up. Taking good care of your tent and keeping an eye out for small holes or worn spots can make a big difference in the life of your tent and the quality of your experience.
Waterproof Your Tent with Spray
Up above we talked about how most tents will already be considered waterproof, but that doesn't mean you shouldn't take some extra measured to keep the water sealed out. Two of the most popular options are Nikwax or Coleman Seam Sealer. You'll want to do some research to make sure it's the right choice for your tent, and once you do make the purchase, don't just cover the tent from head to toe. You want to seal the rainfly and body of your tent, but keep the mesh areas open and breathable to avoid trapping heat inside instead of just keeping the rain out.
Tie Those Ties Tight
If it's already raining when you set up your tent, this part can be extra tricky. The water will make the ties sag, so be extra sure to make them tight and secure. If possible, it might be a good idea to re-tie your tent once things dry out a bit to be sure you're ready should another rain storm come your way. Why is it important to tie the ties tight? (Say that three times fast!) Tieing tight ties will help make sure each part of the tent is doing the job it is designed to do by whisking water away from the tent and avoid water pooling your tent.
Groundcloth – what is it and how to avoid bigger problems
Groundcloth is essential for making sure your tent stays dry and you don't wake up in a puddle. However, if not done correctly, it can create an even bigger problem by attracting and trapping water under your tent. If you spread a huge tarp out under your tent, it will only pull water in and let it sit under there. You need to be sure that the seam is sealed to avoid this happening.
Now, the original purpose of a groundcloth is to avoid sticks and rocks from damaging your tent, but that doesn't stop it from also helping to waterproof. Some camping experts even recommend putting the groundcloth inside the tent instead of underneath! Check out all the opinions here.
What can you do?
So at the end of all this we're left with the question, what can you really do to rain proof your tent? The fact of the matter: sometimes when you camp, you're going to get wet. That's just a part of being in the great outdoors. We hope some of the tips above helped you out and you might even have a few extra tricks up your sleeve, we've certainly seen some creative options over the years. What matters is that you come prepared to have a great time and make memories. Don't let rain ruin your trip, I promise you'll still have an amazing time.
Sources: