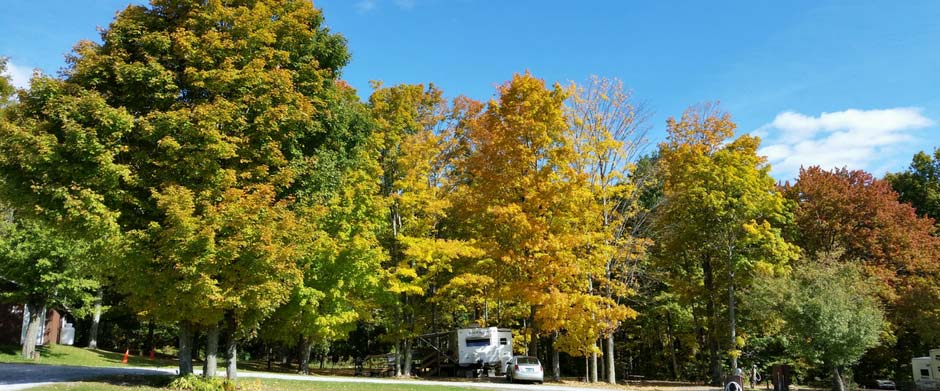 Fall foliage is coming up and you know you don't want to miss it! If you've ever been here in Fall before, you know how amazing it is when the leaves begin blazing red, orange, and yellow. Fall foliage camping in Vermont is one of the best ways to enjoy the season because you never miss a moment being stuck indoors.
We're lucky enough to be located away from the more populated areas so you're really immersed in the mountains and there are many trails nearby that make perfect hikes for people of any ability. We've made a list of some of the trails around the area.
Local Trails
We have a short recreational trail right in Fairfax that takes you on a loop by the Lamoille River. It pops out near Steeple Market, where you can grab a bite to eat on your way back!
Niquette Bay State Park is located just 20 minutes away and offers a 3-mile loop that partially borders Lake Champlain. Dogs are welcome too which is a plus! They must be kept leashed but they are allowed to swim in certain areas. Bring a lunch and enjoy the afternoon by the water.
A little further south of us is Colchester, which offers a few different hiking options. The Bayside Path takes you right through town and ends up near one of the boat access for Mallets Bay. It's a little less than 4 miles but it's pretty flat and ideal for walking or biking.
If you want to get even closer to the lake, our favorite trail is the Colchester Causeway which takes you out onto the lake. There is on and off construction so the bridge and ferry might not be open to take you all the way to South Hero. We suggest starting from Airport Park and following the paved trail. (It's also called the Island Line Trail and it can take you all the way through Burlington if you decide to go south.)
Interested in more of the area? See local attractions here.
Interested in fall foliage camping in Vermont? Reserve your site here.